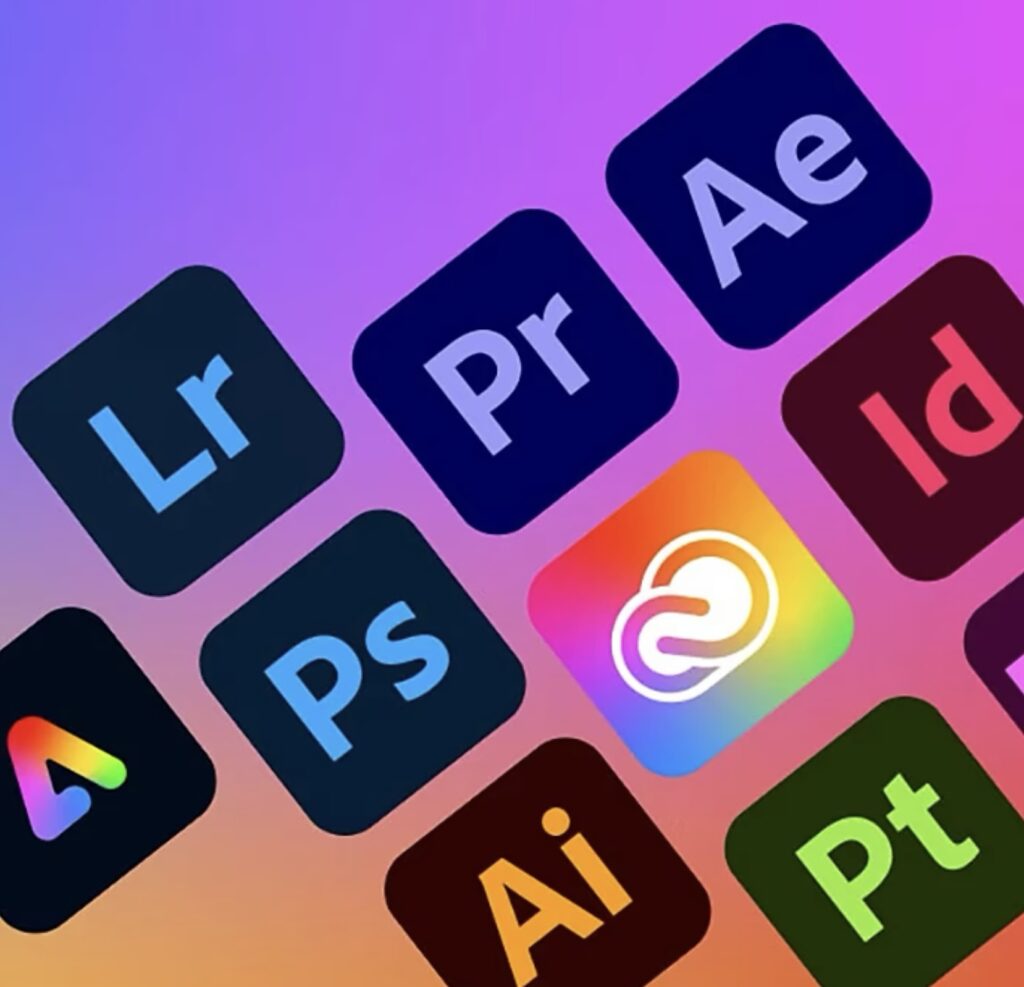 In the world of graphic design, staying up to date with the latest design tools is essential to unleashing your potential and creativity. The Adobe Creative Cloud suite, encompassing Adobe Photoshop, Adobe Illustrator, and Adobe After Effects, continues to be the ultimate design tool for graphic designers. These tools offer facilitating tasks ranging from precise vector graphics creation with Illustrator to sophisticated photo manipulation in Photoshop.
Graphic designers mostly choose Adobe software, including Photoshop, Illustrator, and InDesign, for several compelling reasons. Adobe has established itself as an industry standard, with many designers acquiring their skills on Adobe products during their education. The versatility of Adobe Creative Cloud, offering a comprehensive suite for photo editing, vector graphics creation, and layout design, allows designers to seamlessly handle diverse projects within a unified ecosystem. Adobe's file formats are widely supported and compatible, making smooth collaboration with clients and other professionals. The integration of Adobe Creative Cloud applications facilitates easy movement of projects between different programs. Continuous updates, a large community, and extensive resources contribute to the appeal of Adobe, providing designers with access to the latest tools, support, and professional output. While other design tools exist, Adobe's widespread adoption is influenced by its industry presence, reliable performance, and comprehensive training and educational resources.
Adobe Photoshop
Adobe Photoshop is a widely used and powerful graphics editing software developed by Adobe Inc. It's a go-to tool for both professional designers and enthusiasts, known for its versatility in image editing and manipulation. Photoshop provides a broad range of features, including layers, masks, filters, and various tools for retouching, cropping, and adjusting images. Users can create intricate designs, edit photos, and enhance digital artwork with precision. The software supports various file formats and is a key component of Adobe's Creative Cloud suite, enabling seamless integration with other Adobe applications. Its intuitive interface and comprehensive capabilities make Adobe Photoshop a staple for graphic designers, photographers, and creative professionals worldwide.
Group Collaboration with Figma
Figma, a leading collaborative interface design tool, has carved its niche by providing an intuitive platform for designing and prototyping. A cloud-based design tool renowned for its user interface (UI) and user experience (UX) design capabilities, along with features for prototyping and collaboration. It stands out for its emphasis on real-time collaboration, making it a favored choice for design teams working together, regardless of their geographical locations. With Figma, multiple users can seamlessly work on the same design project simultaneously, fostering efficient collaboration and communication.
This design tool offers a range of functionalities, including cloud-based collaboration that enables real-time teamwork and easy file sharing. Figma also provides tools for creating interactive prototypes, allowing designers to simulate user interactions and assess the functionality of their designs. Supporting vector graphics, Figma empowers designers to craft scalable and high-quality visuals. Its cross-platform compatibility ensures accessibility through web browsers on both Mac and Windows operating systems.
Among its features is the ability to create reusable design components, promoting consistency and efficiency throughout the design process. Furthermore, Figma keeps track of version history, allowing designers to review and revert to previous iterations of their work. Appreciated for its user-friendly interface, collaborative capabilities, and end-to-end design process support, Figma is commonly employed for web and mobile app interface design, as well as various graphic design projects.
Adobe Grease Pencil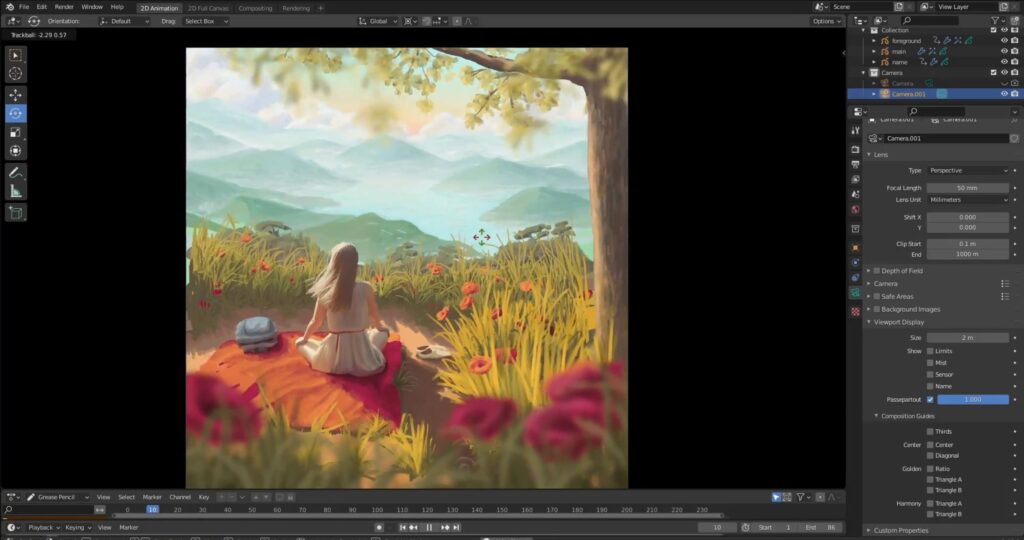 Exploring beyond traditional design tools, Adobe's Grease Pencil in Adobe After Effects introduces innovative ways to animate drawings directly in a three-dimensional space. This revolutionary tool is particularly lauded for its ability to add a hand-drawn touch to animations, creating a unique and engaging visual language.
The Adobe Creative Suite, a perennial favorite, encompasses a range of applications tailored for various design needs. From video editing with Adobe Premiere Pro to web design with Adobe Dreamweaver, the Creative Suite is a comprehensive solution for professionals seeking versatility in their design toolkit.
In the domain of raster and vector graphics, understanding the distinction between the two is paramount. While raster images excel in capturing intricate details, vector graphics, supported by tools like Adobe Illustrator, ensure scalability without loss of quality. These design tools enable professionals to craft visuals that are not only aesthetically pleasing but also adaptable to diverse mediums.
For those seeking cost-effective options, free Photoshop software and Illustrator online platforms offer entry points into the world of professional design. These tools empower aspiring designers to hone their skills without a financial barrier.
Jitter Video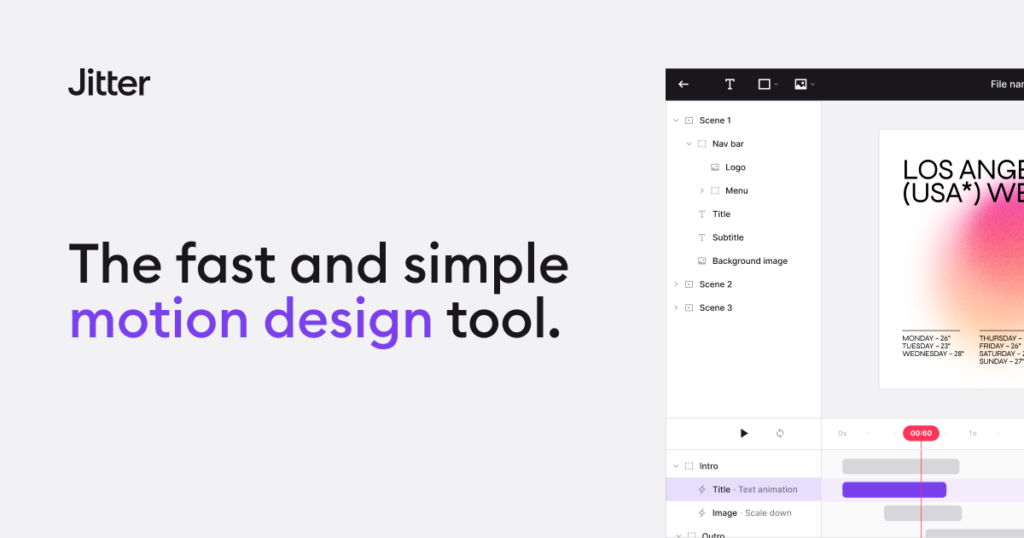 Another great and easy platform to use in 2023, is Jitter. Designers can now craft captivating and professional animated content with Jitter. Elevate your design game by incorporating on-brand animated user interfaces (UIs), dynamic videos, engaging social media posts, visually stunning websites, interactive apps, and animated logos. Jitter empowers you to infuse your creations with a unique visual flair, bringing your brand to life with eye-catching animations. Whether you're telling a story through motion graphics or enhancing the user experience with animated elements, Jitter provides the tools to make your designs stand out. Embrace the dynamic possibilities and make a lasting impression across various platforms with animated content that speaks to the essence of your brand.
In conclusion, the design tools in 2023, are a blend of functionality and creativity. Whether you're an experienced professional or a beginner, these tools are essential on your creative path. Stay tuned for any updates on the evolving design platforms that have the potential to reshape the limits of creativity and innovation.